Commercial Services in Tampa
Get the Job Done Right the First Time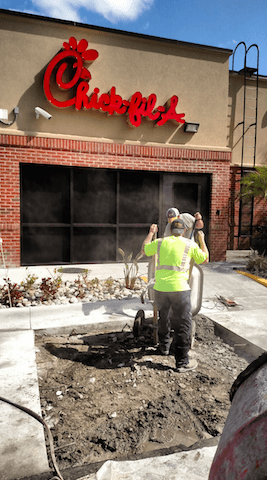 The foundation of every business is a comfortable and up to date place office or work environment . When you're setting up a business in a new building, the plumbing or electrical system may be the last worry on your mind. If you find yourself in a building without the proper accommodations, you can rely on our concrete experts at Florida State Concrete Cutting & Core Drilling to help. With the use of our hydraulic equipment and handheld saws, we can drill into your concrete walls to free up space for your plumbing or electrical needs.
Our commercial services include:
Concrete Cutting
Concrete Sawing
Concrete Drilling
Installations in Build-Outs
Interior Slab Removal
Installation of Slabs
A few clients we've provided our services to include: International Plaza, Westfield Brandon Mall, and University of Tampa. We treat your property as if it were our own so we make sure to clean up any debris or materials prior to completion. Our concrete professionals have extensive experience providing the exact cuts and drills for our various clients. Maximize your business with us by calling (813) 352-3134!